Welcome to Studio Fruity!
My name is Tiny Schwaner and I make jewelry and art out of polymer clay and other mediums. My philosophy when it comes to making art and adornments for your body and home is that I want to inject color and joy into a world that is becoming increasingly neutral!
Studio Fruity is an homage to all things glittery, disco, and full of life from the 70's that often inspire me. We were blessed with the artform of disco by our queer and BIPOC elders who created such joyful expression through music and community. I also wanted a brand that more aptly represents me and what I stand for: LGBTQ+ liberation, fat liberation, anti-capitalism (haha), anti-racism, anti-ableism, mutual aid, and community care. Everyone deserves to be exactly who they want to be!
SHOP NOW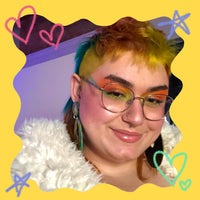 express yourself
_____________________________________________________