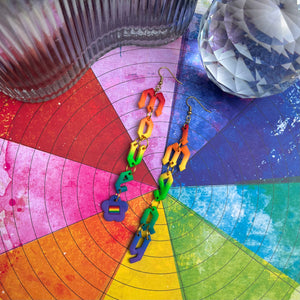 These earrings are based on the titular "Move. I'm gay." meme and are made with a rainbow gradient of polymer clay and nickel-free iron findings. Approx. 4.5" long. On hooks.
Colors may vary from product photo
All Studio Fruity pieces are handmade (colors mixed, shapes cut, baked, then sanded, assembled, etc.) from start to finish so every piece is unique and slight imperfections may occur. The main medium of my is polymer clay, which is very lightweight, durable, and can last if treated well! If your earring becomes dirty simply wipe with a clean, damp cloth. Store your pieces in a dry place, keep away from solvents and extreme heat, and do not wear while showering or swimming.